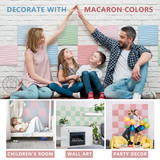 Macaron Color 3D Wall Panels With Double-sided Tape (12in x 12in, 10pcs) [Wave] [Red/Pink]
FEATURES
TWO COLORS IN ONE PACKAGE - In this package, you will get two colors that matches each other. Of course, if you'd like to create your own color combination, try other colors as well
ADORABLE MACARON COLORS - These dreamy macaron colors are best choices for children's bedrooms, living rooms, or special occasions like party decoration
ALL YOU NEED IS PEEL & STICK - Each panels are backed with double-sided tape that is easy to apply and saves your time on installation
DESIGN YOUR PATTERN - You can start with basic checker patterns, or design a unique pattern of your own
BUDGET FRIENDLY HOME REFORM - You can achieve a high quality wall decor quick and fast with just a small budget
Size: 12 in x 12in
Packaging: 10 pcs/box (Red: 5 pcs / Pink: 5 pcs), covers 10 sqft
Application: Double-sided tape
Material: PVC
Suggested Color Combination:
2 Colors: Cherry Blossom (Pink) + Baby Blue
3 Colors: Coral Red + Cherry Blossom (Pink) + Baby Blue + Cream White
Decorate Your Home with Adorable Colors of Macaron
Choose Your Favorites
Who can resist these dreamy pastel colors look just like macarons?
Choose your favorite colors and start a DIY project.

A Fun DIY Project For Adults & Children
Since the installation is really simple, why not make it a family weekend activity?
Share your best ideas with your family and friends!
Children's Room
Turn your children's bedroom into a dreamy wonderland with soothing macaron colors.
Wall Art
Create a unique piece of wall art with various color options and patterns.
Party Decoration
Hold a macaron themed party and awe your guests!
CAUTION
Please keep the products away from heat, such as using them as kitchen backsplash.
Please be aware that the surfaces/paint of the panels might be damaged due to severe collision or scratch.